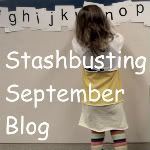 A brief interruption of my endless road trip story...
I've been blog-hopping tonight and stumbled upon this super cool "event." I'm trying to clean out and organize my craft room/office. I'm taking it as a sign that this is something in which I need to participate. Seems like something fun to do, and a way to push me to actually complete some of the projects in my head instead of just buying more supplies to make other projects floating around in there!
I found it at the blog: TheTshirtDiaries.com
Now a few more travel posts to come...just to finish up that story.
:-)